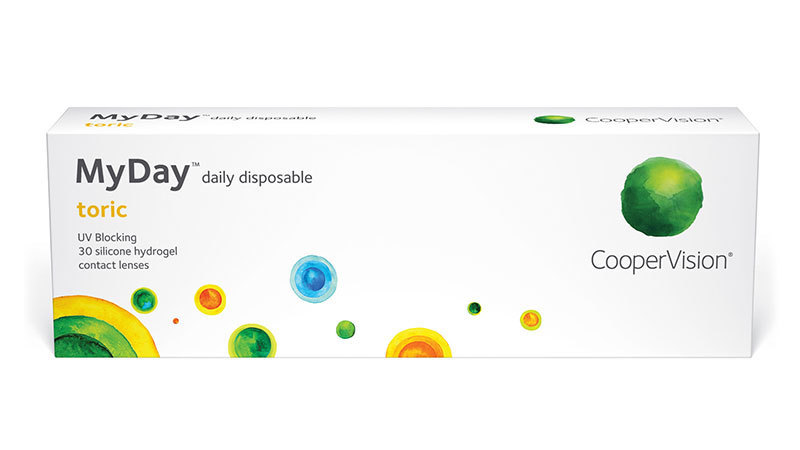 Product specs
Features
Vision – Optimised Toric Lens Geometry™ for exceptional vision
Comfort – Aquaform® technology for unsurpassed comfort
Health – silicone hydrogel material for high oxygen transmissibility1
Protection – UVA and UVB protection*
Convenience – daily replacement
Optimised Toric Lens Geometry™ – delivering exceptional vision for your astigmatic patients.
Our best toric technology2, now in a silicone hydrogel 1-day lens. By combining proven technology with exceptional material, MyDay® toric helps you provide astigmatic patients with all-day comfort in an advanced silicone hydrogel 1-day toric lens.
Uniform horizontal ISO thickness – Improves centration and stability by reducing lens rotation; simplifies the fitting process and provides better visual acuity.
Wide ballast band – Increases the area devoted to stability and a comfortable fit.
Smooth, continuous surface – Maximizes comfort during eyelid interaction.
Large toric optic zone – Provides clear visual acuity over an extensive range of powers.
Unique back surface curvature – Reduces movement on the eye, creating a more stable, dependable fit.
Aquaform® Technology – the science behind unsurpassed comfort.
MyDay® toric lenses utilise Aquaform® Technology to provide an optimal combination of natural moisture and breathability.
Balance of high oxygen permeability, high water content, and optimum modulus for increased breathability and moisture in a soft, flexible lens.
Natural moisture and breathability.
Long silicone chains and compatible hydrogen bonds that lock water molecules within the lens.
Long silicone chains optimize oxygen transmissibility.
Built-in UV protection*
To help promote long-term ocular health, MyDay® toric lenses' built-in UV protection filters 85% of UVA and 96% of UVB rays.
1. High oxygen transmissibility promotes clear, white eyes. CooperVision data on file, 2014.
2. CooperVision data on file 2020. Kubic masked online survey; n=404 US ODs who prescribe toric soft CLs. 46% CVI, 11% Alcon, 14% B+L, 25% JJV; p<0.05.
*Warning: UV-absorbing contact lenses are not substitutes for protective UV-absorbing eyewear, such as UV-absorbing goggles or sunglasses, because they do not completely cover the eye and surrounding area. Patients should continue to use UV-absorbing eyewear as directed by their eye care professional.
Product Details
Design
Optimised Toric Lens Geometry™
Sphere power
Plano to -6.00D (0.25DS steps)
-6.50D to -10.00D (0.50DS steps)
+0.50 to +6.00D (0.50DS steps)

Plano to -6.00D (0.25DS steps)
-6.50D to -10.00D (0.50DS steps)
+0.50 to +6.00D* (0.50DS steps)

Cylinder power
-0.75, -1.25, -1.75
-2.25
Axis
10°, 20°, 70°,
80°, 90°, 100°, 110°,
160°, 170°, 180°
10°, 20°, 90°,
160°, 170°, 180°