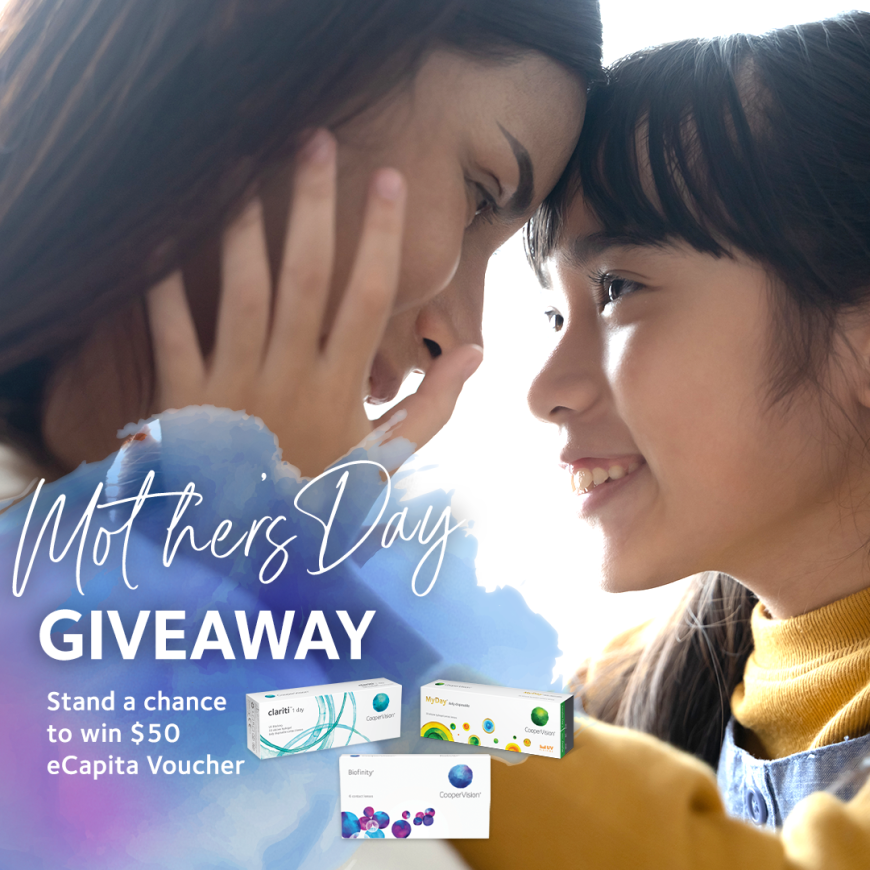 TERMS AND CONDITIONS
CONTEST PERIOD FOR FACEBOOK: The CooperVision Mothers' Day Facebook Giveaway ("Giveaway") is organized by CooperVision Singapore Pte Ltd ("CooperVision") from 8 to 13 May 2022 (both dates inclusive).
All entries must be submitted via Facebook only, by 11.59 PM of each Wednesday within the contest period (Singapore time).
ELIGIBILITY: This Contest is open to Singapore Citizens, Singapore Permanent Residents or foreigners residing in Singapore.  Participants must be at least 18 years of age or older at time of entry.
The following persons are not eligible to participate in this Contest:
Employees of CooperVision® and their spouses,
Employees of trade partners of CooperVision®;
Employees of CooperVision® vendors, marketing agencies and any other parties who are directly involved in the organising, promoting or conducting of the Contest.
HOW TO ENTER:
Like our Facebook Page @coopervisionsg.
Like and share this post
Tell us how you're celebrating Mother's Day! Participants must complete all steps to be eligible.
CooperVision may disqualify any participant or entry on the grounds of inaccurate information, fake or multiple Facebook accounts.
PRIZE(S): $50 eCapita Voucher
Prize is non-transferrable and cannot be exchanged for cash or other products. You will accept the Prize as-is. Vouchers once expired is not exchangeable and type of voucher may be subjected to change without prior communication.
WINNER(S) SELECTION AND NOTIFICATION: Selection of the winning entry shall be decided by CooperVision in its sole and absolute discretion.  CooperVision is not obliged to give any reason or enter into any correspondence with any person concerning the Contest.  Ten winners will be contacted on CooperVision's Facebook page.
PRIZE REDEMPTION: CooperVision will email the ten selected winners and provide further details on the prize redemption process.
If the winner is uncontactable, the prize shall be forfeited without further notice.
PERSONAL DATA: By entering the Contest, you agree to the following:
You confirm that you have read, understood and agreed to these Terms and Conditions.
By submitting your information, you agree and consent to CooperVision Singapore Pte Ltd, its agents, authorized service providers and marketing partners collecting, using, disclosing and/or processing your personal data (a) to process your participation in this Contest; (b) for the purposes as stated in these Terms and Conditions.
RESERVATION OF RIGHTS: CooperVision is entitled to terminate or modify the Contest or the rules at any time prior to the closing date by publishing any such modifications or termination on the CooperVision Facebook page.
Contest participants are fully responsible for their postings and comments, and such postings and comments do not represent the sentiments and opinions of CooperVision. CooperVision has the sole and absolute discretion to remove any posting and comment at any time and in any manner it deems fit.
By entering this Contest, each participant agrees that CooperVision and its respective affiliates shall not be liable for any injury, loss, claims or damages of any kind arising out of or in connection with his or her participation in this Contest and/or in relation to the Prize.
These Terms and Conditions are governed by Singapore law and by participating in the Contest; you consent to submit to the exclusive jurisdiction of the Singapore courts.
---