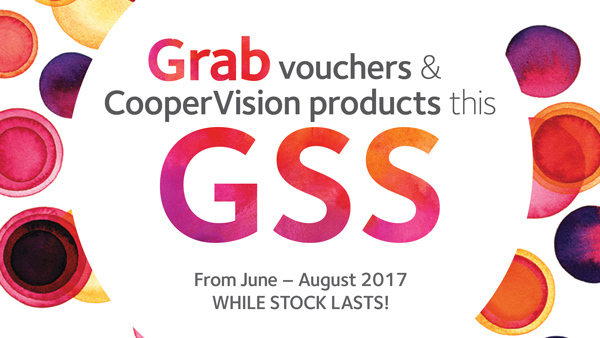 GrabGifts Terms and Conditions 
Validity of this promo code for a period of 3 months from 16 Aug 2017 – 15 Nov 2017
Limited to 1 redemption per user.
Redemption eligible on all GrabCar and GrabTaxi except for GrabHitch
GrabGifts cannot be combined with other promo codes.
CooperVision Singapore GSS 2017 'Scratch and Win' promotion Terms and Conditions
The promotion period is from 1st June to 31st August 2017 ("Promotion Period")
Purchase of (A) Minimum 4 boxes of CooperVision's daily disposable or (B) Minimum 2 boxes of CooperVision's monthly disposable entitles you to 1 scratch card.
Issuance of scratch card is not applicable against promotional products.
Prizes are not exchangeable for cash or any other items.
Scratch card which is damaged or tampered with in any manner will not be valid for any prize redemption ("Invalid Card"). No replacement scratch card will be issued for any Invalid Card or any lost scratch card.
Prizes that consist of CooperVision's products are to be redeemed at the store of purchase. Eye examination fee is not included.
All redemptions must be made by 30th September 2017, unless otherwise stated. If any prize is unclaimed after the specific prize redemption date, the prize will be considered forfeited and dealt with at CooperVision's sole discretion without further notice to the winner.
By accepting this scratch card, you will abide by any terms and conditions for this promotion.
CooperVision Singapore reserves the right to amend the terms and conditions of this promotion.